Where were you on Sunday, September 26th, 1982? I AM SURE you were at home watching the two hour series premiere of Knight Rider: Knight of the Phoenix.
AND...
Did you see the NEW KNIGHT RIDER pilot movie on
Sunday, February 17th, 2008 on NBC?
AND...
Did you watch the new series première on
Wednesday, September 24th, 2008 8/7c!


Welcome to M1Knight's Knight Rider site! Here you'll find all things Knight Rider - focusing on the original series. In the future, KR 2000, Team Knight Rider and the new Knight Rider (2008). But the best is first!

KNIGHT RIDER - BIG NEWS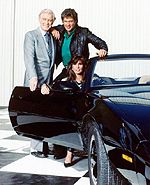 Restored to its debut-season glory, K.I.T.T., the modified black 1982 Pontiac Trans Am is offered for $149,995 at a Dublin auto dealership.
It is one of four documented "camera cars" used for close-up shots and scenes where David Hasselhoff, who played Michael Knight in the series, was behind the wheel.
Johnny "Vette" Verhoek of Kassabian Motors has had the car, officially called Knight Industries Two Thousand, on display for about a month.
Note: K.I.T.T. isn't even street legal because of missing smog equipment and other modifications. Whoever buys the car will probably keep it in a private collection, or it may be purchased by a museum, Verhoek said.
The car belongs to Tim Russo of Livermore, a Kassabian customer who figured now was a good time to test the market, with the shows 25th anniversary coming up.
Russo purchased the car 10 years ago at an auction in San Diego, and has spent the last decade finding parts to restore it.


DID YOU KNOW?
There are new Knight Rider video games!
Great graphics and sound! You drive K.I.T.T. on various missions. Knight Rider 2 has added to Knight Rider cannon in that K.I.T.T. has new weapons. A laser is used as in the TV show, however now it is a pop up unit in the fender. Other fender weapons are in the game, plus (my favorite) missiles in the hatch back area. Some may not like the idea of a K.I.T.T. with such weaponry... but in a world of criminals who operate above the law... I understand and welcome the new additions they make sense. Davilex created the game and did a great job. Download a demo today - or run out and buy it.
Rush out
AND GET IT!!!


Little road rage there K.I.T.T.?
Version one of the game I received as a gift (thanks Doug & Mendy!) and it's amazing. It's a game for true fans that's for certain. Having trouble in the game?, Jacob Wagner has a created great guide that I have permission to post here at m1knight.com. Click to download the guide for the first game.
"One Man Can Make A Difference"
-Wilton Knight