_______________________
Banner to link to M1Knight!



_______________________




Below are the Knight Rider collectables that I have. More to come!

Puffy Stickers
Who can forget Puffy Stickers? They are "awesome."

I have the world's largest collection of
Knight Rider Puffy Stickers!

111 packs of six + 1 pack of twelve = 678
PLUS an original display box
OH YEAH!

There are 12 stickers
in two different packs
of six each:

Pack 1

Pack 2

F.L.A.G. Semi
K.I.T.T.
K.I.T.T.'s voice Box
Michael Knight
Michael & K.I.T.T.
Helicopter behind K.I.T.T.
Knight Rider Opening shot
Dash close up
K.I.T.T.
Michael in K.I.T.T.
Michael Knight
K.I.T.T.'s dash

The 12 pack as all of the above on one card.

P.S. I also have two A-Team Puffy Sticker Packs!
I love it when a plan comes together!
Knight Rider
1985 Racing game for the Nintendo Entertainment System by Acclaim

CHEATER! CHEATER! CHEATER!
Level Select
Hold A + B and reset the system. Release the buttons and select Mission or Drive. Press Up or Down when Devon appears to select a level.

Boss Battle, Weapon Select
Pause gameplay, hold Up/Left + A + B and press Select to change weapons.

View Ending Sequence
Hold Select and reset the system.

Secret Message
Hold Select + Start and reset the system.

Desert Battle Level
Password: NSMRNQIUKRISD
Knight Rider
MIO's K.I.T.T. GPS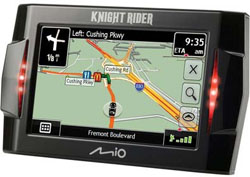 My awesome K.I.T.T. GPS! Thank you to my beautiful wife for it, a gift to me. Rock on! Now I won't get lost again on the way home from Grandma's - in the dark - while trying a "new" way that "should save some time" .... OOPS!
It has all new recordings from William Daniels, K.I.T.T.'s original voice actor. You can set it up to say your first name at start up - so cool. Red lights sequence on the sides while K.I.T.T. speaks directions, and the sides are shaped to honor the Knight 2000's custom front end. Great details, great voice, great product. Good job, MIO!
Knight Rider
COLORFORMS ADVENTURE SET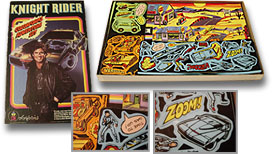 Create your own Exciting KNIGHT RIDER Adventures with lots of Colorforms Plastic Pieces the Stick like Magic! Set Contains: Colorforms plastic playpieces, Playboard & Instruction Booklet. Copyright 1982.
Knight 2000
From the Television Show KNIGHT RIDER - MPC Model Kit*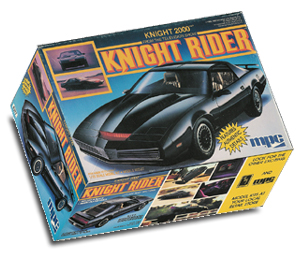 *Paint and Cement Not Included
Molded in Black, Bright Plated Parts, Lift-off roof sections, Authentic custom Knight 2000 styling. For the modeler of moderate experience, Cement required for assembly, Model may be painted to match illustrations.
KNIGHT RIDER LEGACY
The unofficial Guide to the Knight Rider Universe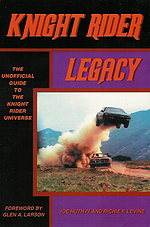 By Joe Huth IV
Richie F. Levine
THIS IS IT! If you are a Knight Rider fan, you must have this book! Thanks to Jared and Anndell for giving it to me as a birthday present! Whoopie! It includes how Glen A. Larson came up with the series, how David Hasselhoff almost blew his screen test, how they made K.I.T.T. do all those incredible feats, exclusive interviews with cast members, complete show by show breakdowns, and Knight Rider 2000, and MUCH MORE! BUY IT online today! 418 pages of Knight knowledge!
THE STU PHILLIPS SCORES
Knight Rider - Original Television Soundtrack
SOLD OUT! The disk pressing was limited to 3,000 copies.
view info here: http://www.stuwho.com/store.html
This is it fans, the original television music re-mastered in stereo. In the booklet lists the artists that performed the main title - and helped to create it. In all 18 people brought the main theme to life. The disk contains 40 tracks and the booklet (16 pages) gives background on each one. There are some behind the scenes photos and music sheet pictures. The disk itself is perfect for Knight Rider music - solid "basic black."
At the time I ordered my copy Stu would even autograph it! AMAZING. See the images above (click them for a larger view).
Hearing the music re-mastered is EYE OPENING there are many subtle sounds in the main title I never realized where there.